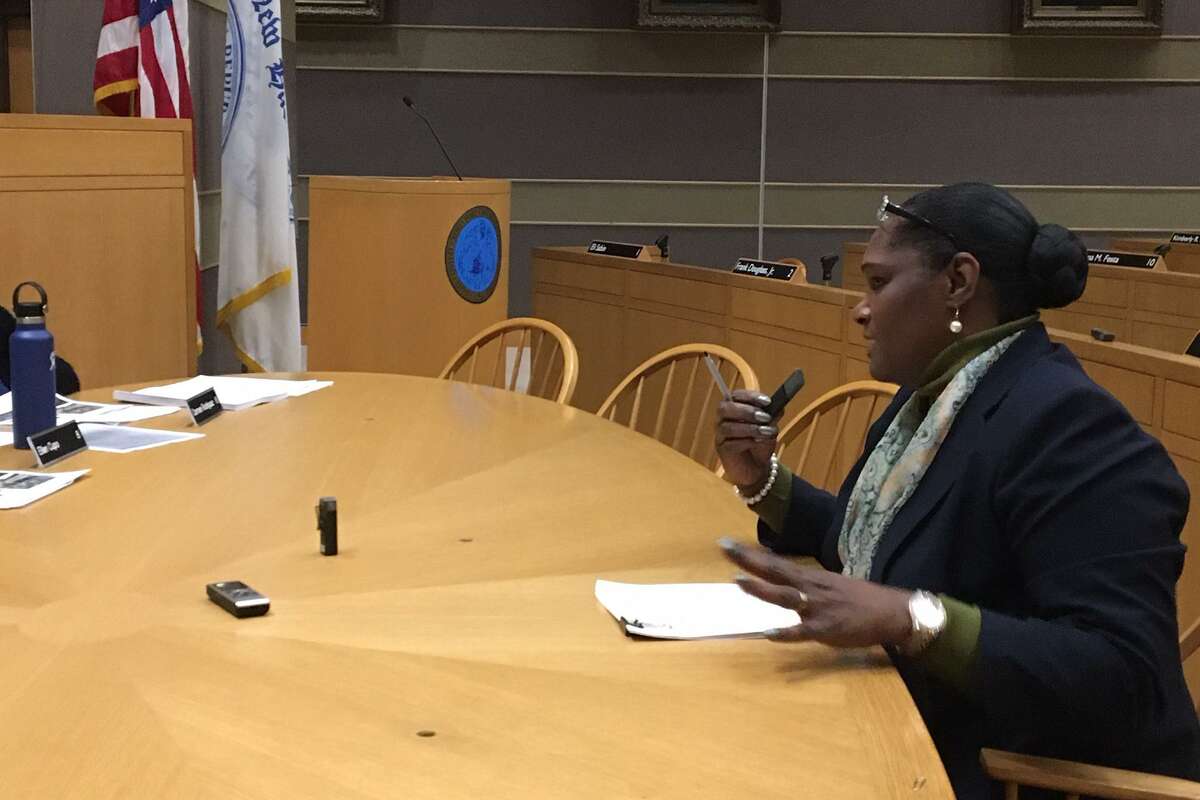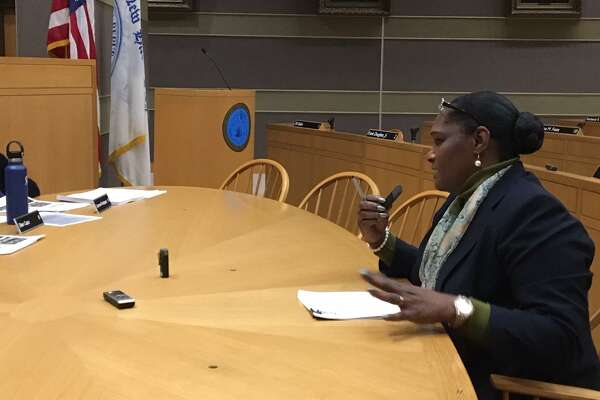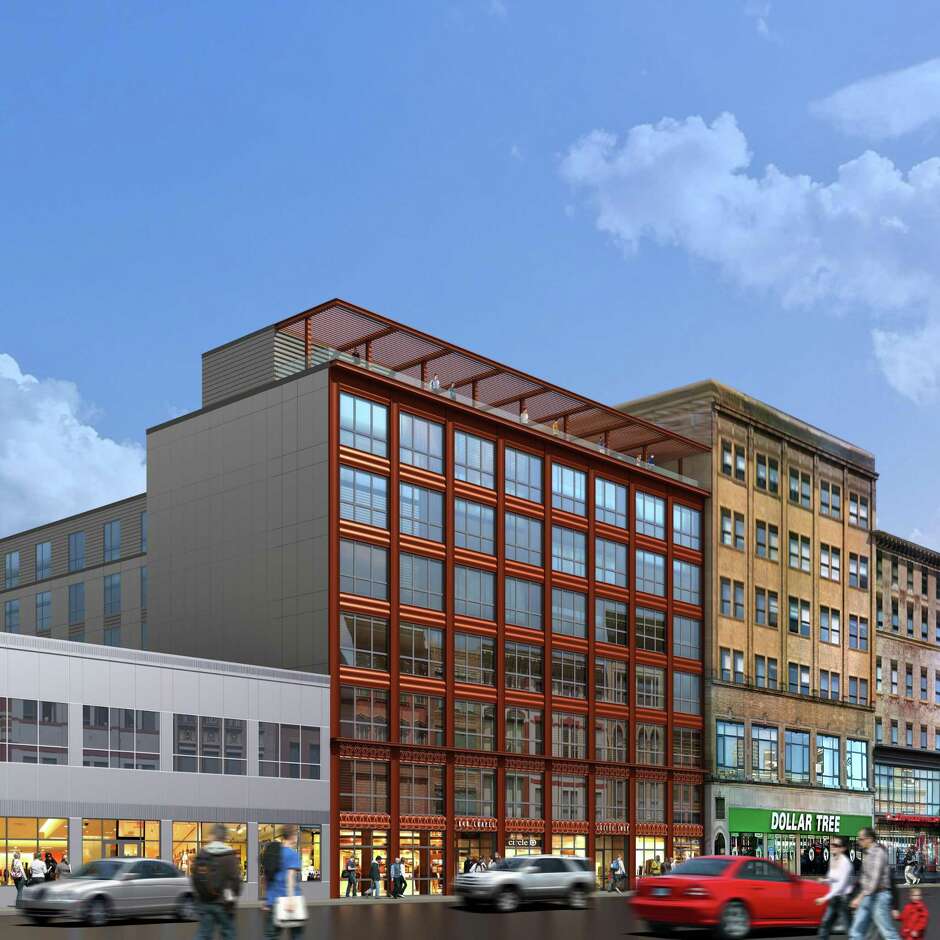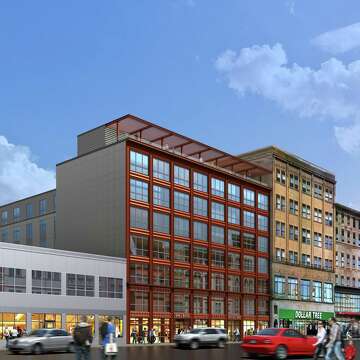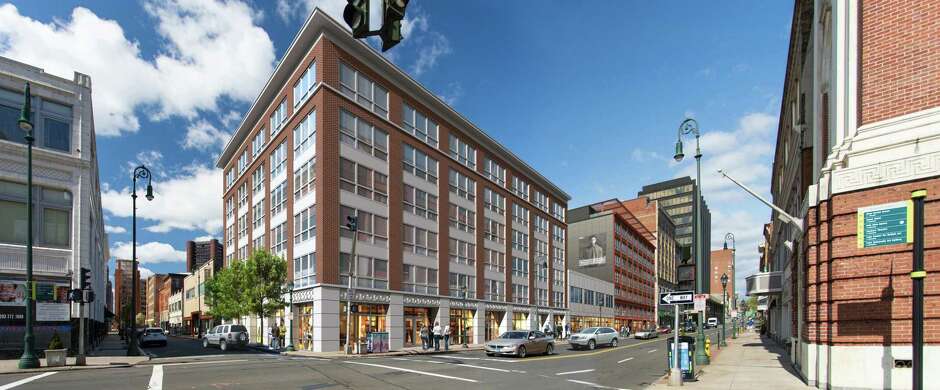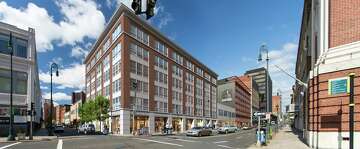 Alder Frank Douglass, D-2, said the city has to get its
Affordable Housing Commission
in place and inclusionary zoning rules vetted and approved to advance its goals, even as it has been recommended that a portion of the sales revenue be placed in an Affordable Housing Fund.
Still, the projects will mean jobs and more tax revenue, and in the case of apartment construction on Chapel and Orange streets, if approved by the full Board of Alders, realize a deal that has been pending since fall 2018.
Northside Development, owned by Paul Denz and Chris Vigilante, plans to combine parcels at 842 and 848 Chapel St. to construct 120 units in the middle of the block where there has been a gap since a fire at the site.
On the corner with Orange Street at 808 and 812 Chapel, the developers plan construction of another 46 apartments that will feature ground-floor retail.
They will pay the city $1,057,500 for three parcels with the recommendation from Deputy Director of Economic Development Steve Fontana that the bulk of the funds, $557,500, go to the General Fund in this fiscal year; $100,000 to support the work of the yet to be named Affordable Housing Commission; and $300,000 for a Chapel Street infrastructure fund.
Denz said the appraisal was $350,000 when they began negotiations and within a year it jumped to $700,000. He called it "grossly overvalued, but we agreed to it over time. We are paying full price as if it was developed land." He said the city drove a hard bargain.
Denz said Northside would have added affordable units but state "Just in Time funds," which in the past underwrote such units in earlier development deals, have dried up.
Denz said under the city's phased-in tax assessments, which are available to all developers, the project will generate some $200,000 in tax revenue that eventually will reach $600,000 for the city. As empty lots, the taxes are only $20,000 and the project puts the city-owned parcels on the tax rolls.
As part of the plan, the bus stop at Chapel and Orange will be put back in front of 900 Chapel St., across from the main transfer area on the Green. The city said this will provide more shelter for users and be more convenient, while it frees up parking spaces on Chapel Street.
Denz hopes to begin construction in spring and estimated it will take some 21 months, starting with permitting and architectural drawings, to complete. "No one is in more of a rush than we are," the developer said of getting his plans off the ground.
The smaller building will have 28 studio apartments, 13 one-bedroom units and five 2-bedroom units. The rents are based on $3 per square foot with some $1,300 to be charged for a studio. Alder Ellen Cupo, D-8, questioned who could afford this price other than Yale students and said it likely would be transient renters, rather than residents invested in staying in New Haven.
Denz said its price point will be lower than other new developments and its location downtown is a plus. He said he expects his tenants to be first-time renters who eventually will move to a bigger space.
"They are not cheap, but they are new" and he said they have cover their costs and pay the bank. Denz said the projects will yield jobs and the startups downtown continue to bring more people looking for housing. Vigilante said they are not operating on a "huge margin."
Denz said luring retail in this era of online shopping is difficult, but he hopes to do so and has a potential local business operator interested in the space.
The committee members voted to approve the proposed sale in hopes the new construction will bring back a vibrancy to this part of Chapel Street and downtown in general.
Alder Kimberly Edwards, D-19, who wants affordable units, said she did not want to risk losing this development.
"We will fix it somehow, some way," she said of setting up a process that will bring lower-cost apartments here.
"We have to move faster," Douglass said.
Edwards chastised the city for presenting the deal as if the developer were paying an extra $100,000 toward the Affordable Housing Fund, when it is being taken out of the sale price.
"In my opinion it is almost misleading," Edwards said. "I have a problem with the verbiage."
"We are happy to take whatever guidance you want to provide us with," Fontana said. "We are not trying to mislead you at all. We respect you greatly. We are trying to support affordable housing ... without an ... ordinance in place."
Fontana said they try to get as much money as possible in these deals and was happy to hear from developers that the city "drives a very hard bargain and gets a lot of money. Modestly, if that is the case, I am proud of that because we are working for you."
Members of the Community Development Committee also approved the sale of a parking lot the city owns at 92 Olive St. and to release its right to reclaim a portion of 98 Olive St. for $180,000. This will allow Avi Meer to convert an existing office building and add a second structure in front to accommodate a total of 31 apartments at the corner of Olive and Court streets.
The people who now park in the city lot would retain the right to the space after the new construction is completed for a minimum of five years. The developer will seek zoning approval in April and hopes to start construction this summer.
Attorney Ben Trachten said adding affordable units would impact the feasibility of the project. He said there is private parking nearby for those parkers who will be displaced during construction.
Architect Wayne Garrick said in researching the property, he found that it was the site of the city's second-oldest synagogue.
Meer, whose company is Urban Haven Corp., said the design "represents 770, which is the Chabad headquarters of the world in Brooklyn, the house of our rebbe. We were able to tie a beautiful building that used to be a synagogue in a similar structure like our rebbe's synagogue. It feels right."
The rebbe's address is 770 Eastern Parkway in Brooklyn, he said.
The alders also approved an amendment to a previous land disposition agreement with a new owner, Industrial Flow Solutions, that wants to locate on John Murphy Drive. The company manufactures, sells and services electrical industrial pumps and plans to bring 14 jobs here, ranging from engineers to general laborers.
Matt Blackwell, director of operations, said he was excited to come to New Haven as a "great area" for his workers. He is bringing two of his companies to the site.
The city will let the new developer out of an old agreement to build a parking lot at the John Murphy Drive site that once was home to Radiall USA. In return, IFS will make $385,000 in real or personal property investments, agree to the city's requirements on hiring and accommodate the Mill River trail.
Cupo said she was happy that there will be no negative environmental impacts as the manufacturing component is not done on the property.
The committee also easily approved Phase 2 of a project developed by the city's Livable City Initiative in which it has buyers for two single-family homes it had built at 30 and 40 Riverview St.
LCI Executive Director Serena Neal-Sanjurjo wrote that the properties "represent the cornerstone of continued residential revitalization within this portion of the Fair Haven Heights neighborhood."
In phase one, LCI built and sold five two-family homes close by; one of the apartments is occupied by the new owner and the other is a rental unit. Neal-Sanjurjo estimated the sale price of the two new homes at between $190,000 and $197,000.
She said the housing is mainly supported by state funds with the sale revenue put back into a revolving fund to construct more housing.
Another older land disposition agreement was amended to allow Lulac Head Start, which runs a day care program, and New Haven Masonry, an abutting owner, to enter into a land swap in which Lulac would move into a larger space at 106 Haven St. and allow New Haven Masonry to stay and expand into 375 James St., now owned by Lulac. Both are in the Mill River District.
The agreement mandates that the 106 Haven St. site remain a day care center for 30 years. Lulac has been at its current site since 1991 and has a total of four centers between New Haven and East Haven. Lulac has $1.7 million in federal money to undertake the renovation and move.
Lulac serves more than 500 children, almost 100 percent of whom are in households living under the poverty level; employs 125 teachers; hires 10 to 15 parents; and helps staff pay for educational advancement. Mikyle Byrd-Vaughn, the director, said many families walk to the site and that will still be possible.
mary.oleary@hearstmediact.com; 203-641-2577